Welcome !
________________________________________________________
24th Oct 2016
Dark Seed
Originally written over three years ago, I've been eagerly awaiting for this eNovel to go on sale, and it's finally out there available in epub and mobi format for kindle and iPad!
Dark Seed
If you're in the US, you can purchase it on Amazon
here
If you're in the UK, you can purchase it from Amazon
here
You can also read a review at the
Monster Librarian
There's also a book trailer
here
And an older one
here
highlighting the inspirations for it when it was originally going to take the form of a TREEBook
________________________________________________________
15th Sep 2015
The Soul Continuum
It's hard to believe that more than three years have passed since The Soul Consortium was launched. To those of you that have been waiting patiently for a sequel, today is its official release date, and as you can imagine, I'm incredibly excited and proud to see this one in print. So here it is, at long last, the second book of The Soul Archives series:
The Soul Continuum
If you're in the US, you should be able to spy some copies in book stores, but obviously, you can buy it on Amazon
here
If you're in the UK, you can purchase it from Amazon
here
There should also be a Kindle version and an iPad version.
Two favourable reviews are already out there...
Publishers Weekly
Open Book Society
Don't forget to drop me line once you've read it. I'm always keen to hear what people think. Enjoy!
________________________________________________________
13th Oct 2014
The Revelation Sensation
For many years I have had a bunch of files sitting around in my PC - strange and fantastical tidbits gleaned from more than a decade of Biblical study into the subject of 'The End Times'. I have been procrastinating for way too long. Fussing and pawing over the details, but finally, I decided to self-publish it all.
I feel a strange sense of unease at portraying it in the way I have in this book. Don't laugh, but I went through a stage, during my Christian years, where I accepted this prophetic stuff, but now I don't, and whilst I still find the subject fascinating, I view it with a generous dollop of tongue-in-cheek. It is not my intent to offend, so if I do, my hope is to counter that by making sure that all profits from this book go straight to
CancerResearchUK
.
For every
UK paperback
I sell £2.48 will go to cancer research.
For every
US paperback
I sell $4.64 will go to cancer research.
(The rest of the money is just the printing and distribution costs).
Kindle takings will go to the same place too, but beware of a few formatting issues there. Strange things happen to Greek and Hebrew character sets in there!
And to add to that, I'm throwing in a free software gift too if you want it, but you'll have to check out the back of the book to find out what it is.
So please support this effort and hopefully you'll be entertained by the book itself too!
________________________________________________________
12th May 2014
The Beasts of Upton Puddle wins an IPPY!
Fantastic news! The Independent Publishers Book Awards named 'The Beasts of Upton Puddle' as winner of the Fantasy category for 2014. A nice shiny medal is on its way in the post. A massive thank you to Medallion Press, Ruth, all my friends and writer buddies for their support.
2014 Winners
________________________________________________________
1st Sep 2013
The Beasts of Upton Puddle are here!
The big day is here - the first book in the
Pyronesian Chronicles
has been released today. It's widely available - should be floating around many a store in the US, and obviously available online as e-book or paperback:
For those of you in the UK, you can buy it from Amazon on
Kindle
or
paperback
. Or in the US,
Kindle
or
paperback
.
________________________________________________________
5th Dec 2012
The Next Big Thing
Exactly one week ago talented authors Richard Thomas and Andrew Post offered me the opportunity to take part in this little venture:
The Next Big Thing
.
It's a blog initiative in which authors have an excuse to shout about what they're up to with their projects and then pass the shout on to five others. Each author is invited to answer the same 10 questions (damn! it's so tempting to replace one with something random like '
What was the most embarrassing thing you've ever done with a packet of fruit pastilles?
and see if it gets passed on!)
Anyway, here goes...
What is the working title of your next book?
Parousia
.
My spellcheck hates that word. It's an ancient Greek word with spiritual connotations and refers to a kind of magnificent arrival. It's often connected to the second coming of Christ, but in my book, it's about the coming of something... evil.
Where did the idea come from for the book?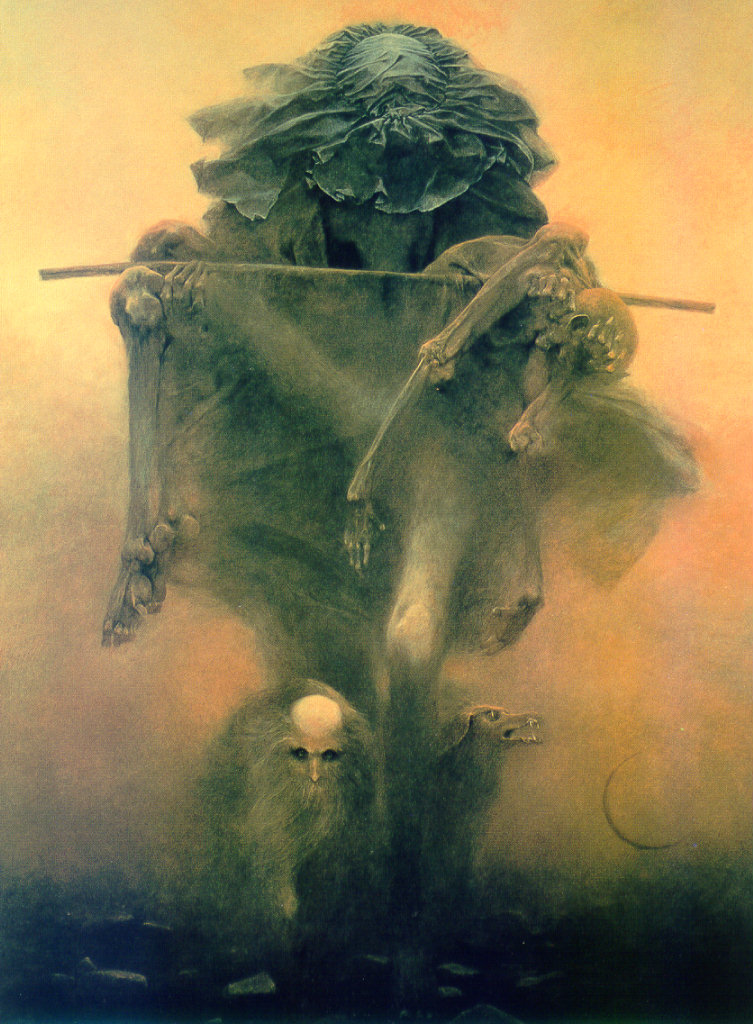 The smouldering embers of a miniature cigar. Puffing away at one of these in the back garden is where my best ideas come from, but my novels are generally a combination of several smoking sessions, a challenging writing premise (my last novella was spawned from the desire to write something that had no conflict) and a few imagined scenarios imprinting on my mind's eye. For this particular book, the ideas came from the desire to write something Lovecraftian, the premise dictated by the medium (electronic format - more on that in my last answer) and the imagined scenarios were influenced by one of my favourite artists - Beksinski.
What genre does your book fall under?
Horror. Specifically, it'll be Gothic and Lovecraftian gore with a dash of steampunk.
What actors would you choose to play the part of your characters in a movie rendition?
There are five central characters. Alexander Drenn is the main. He's a man shattered by the disaster that has befallen his village and struggling to stay sane as supernatural forces close in. The ideal man for this part would be
Liam Cunningham
, but
Paul Bettany
would be excellent too. There's also a brave chaplain - I'm thinking
William Morgan Sheppard
, a beautiful actress:
Bryce Dallas Howard
, and a caring soul by the name of Beatrice Green who would be best played by
Lesley Nicol
of Downton Abbey fame. I'm undecided about the fifth character. Perhaps
Danny Web
or
Tommy 'Tiny' Lister
- make what you will about the difference between these two.
What is the one sentence synopsis of your book?
Five traumatised survivors fortify themselves within a deserted manor house, only to find the danger within is far more deadly than the wraiths outside in the mist.
Will your book be self-published or represented by an agency?
Parousia is scheduled to be published in early 2015 by
Medallion Press
How long did it take you to write the first draft of the manuscript?
I'm still in the early stages of the manuscript, but expect to have the core draft completed before the end of March. The rest of it a few months later.
What other books would you compare this story to within your genre?
I'm aiming for the classic style of Mary Shelley's Frankenstein, but the draft is still in flux, so the style will probably evolve as the book grows.
Who or what inspired you to write this book?
I've already mentioned H.P.Lovecraft; it's chiefly his work that inspired this novel and the era in which it's told, but there's also an old episode called
A Feasibility Study
from the 60s show
The Outer Limits
that inspired the setting for this story: imagine an entire village ripped out of the earth and placed into a hellish environment plagued by deadly wraith-like creatures, and you have the setting. Then imagine the last five survivors under siege inside a deserted house whilst, one by one, they are murdered by an enemy within.
What else about the book might pique the reader's interest?
It's a TREEbook! This is brand new technology from Medallion Media. It's designed specifically for the electronic media and stands for
Timed Reading Experience E-book
. The idea is that the technology learns about your reading habits as you progress through the book, and based on that, the story can branch of into any number of different story lines. You can find out more about it at
http://thetreebook.com
; I'm very excited about the possibilities.
***
I'm still collecting names and blog addresses for my chosen authors, but as soon as I have all the details I'll post them up here.
So far I have:
Greg Lamberson
Janden Daniel Hale
Nicholas Karpuk
Jay Slayton-Joslin
James Bartholomeusz
Tobacco Jones
As soon as they have their blogs ready in a week, I'll post the links.
________________________________________________________
1st Jul 2012
The Soul Consortium launched today
I am very proud to announce that my debut novel 'The Soul Consortium' is now available to buy. Check out the book at Medallion Media to find out more. You can grab a copy from any major on-line retailer.
You can also visit my Facebook author page and 'like' it. Take part in a quiz to try for a free signed copy, or go to GoodReads using the link on the left hand menu.
There are already some favourable reviews out there too
And you can view a book trailer The Soul Consortium
________________________________________________________
25th Jun 2012
The debut book launch is coming...
My debut novel The Soul Consortium is getting some great feedback so far. Although Amazon and e-bay have started shipping already, the official launch date is July 1st, so UK readers have a few more days to wait. I'm reliably informed that it will be available in all the usual electronic formats too, so if you want it on your Kindle, you shouldn't have long to wait.
You can also visit my Facebook author page where you can try to win a signed copy of the book by taking part in the quiz. But beware - it's damned hard!
I have so much more to tell you, but right now, things are getting busy, busy, busy! More soon...
________________________________________________________
13th Jan 2012
Update at WritePlace
Check out my other site - The Write Place - where I have an update for you regarding Gaia's Engine.
That site's going to change soon. As Gaia's Engine has been put on ice for a while I'll most likely change the look of the site and expand it to blog the process of getting a book from acceptance to book shelf.
On that note, if you've been following me on facebook recently you'll know that my debut novel has suddenly popped up for pre-order. You can find it on Amazon here
I have also been trying to transfer pages from my old site to this one, so if you find a particular link isn't working let me know.
A good portion of it is back up now, but the level design area still needs some tlc
________________________________________________________
6th Jan 2012
Happy New Year!
I'm not one for new year resolutions (well, this year anyway), but I have promised myself that I'd be a bit more enthusiastic about updating my sites in 2012.
You might think it strange that a writer doesn't write more in his blogs and websites, but that's because when I do write, I want to be writing a short story or a chapter in whatever novel I happen to be writing at the time. And there's another reason why I don't update: my paranoia won't let me assume that the big wide world is interested in what I have to say. I know that's probably not right because I'm interested in what my favourite writers have to say, and if my own books are getting published, then it's natural that I'll have readers out there somewhere. Oh, and I'm lazy too - that's another reason why my updates are sparse, but do jot me a line if you're happy that I'm promising to update weekly - it'll give me the kick in the ribs I need to stay focused!
So anyway, with Medallion Press hitting the bookshelves with my debut novel this July, I'm going to make sure I roll my editorial sleeves up and get started with the updating - this being the first. I should start by telling you that I've started the year by getting one of my short stories published in a new internet magazine called Conjectural Figments. Sounds sci-fi? Well yes, but be warned, my entry is very sci-fi! It's called "I Am" and explores the polar opposites of transhumanism in the far distant future. It's also acting as a minor spin-off from one of the stories featured in The Soul Consortium which is the debut novel I've already mentioned.
So take a look at the new rag and also at Medallion Press - you'll find plenty more there to entertain too!
See you next week!
________________________________________________________
23rd May 2011
Another late update
Excellent news! Whilst I've been feverishly working away at finishing off Gaia's Engine I had a nice surprise from my publisher last week: I'm very excited to tell you all that Medallion Press have agreed to publish 'The Beasts of Upton Puddle'
It's a way off yet, with an expected release date of September 2013, but I can't tell you how pleased I am that this novel will get to see the book shelves. I should also mention that my latest short story The Draftsman's Descent can be found over at Thunderdome
________________________________________________________
07th November 2010
Monthly Update
Not exactly monthly is it! Ah well, it's not as if I've been inactive. I'm still writing and still updating, but a lot of that is happening over at The Write Place.
A number of things have been happening recently. My author page is in its early stages over at Medallion Press, right here. And there have been a couple of interviews too. One by me here, asking novelist Richard Thomas a few questions, and one by Craig Wallwork on me, here
________________________________________________________
18th July 2010
Monthly Update
Lots happening this month. Very busy getting The Soul Consortium manuscript finalised for Medallion Press - just finished that last night. But the thing I'm most excited about is the launch of my new site The Write Place. Now that I'm actually getting a novel published, a few people are asking questions about how something like that actually happens, so I'm blogging the entire process from start to finish. Go check it out. You can join the facebook paget too - here.
The other thing I'm excited about is the publication of my short story Star God. It's out now. You can purchase a copy the magazine over at This Mutant Life.
Something else of note is the release of Richard Thomas's novel Transubstantiate. I was privileged to see the first draft come together at Write Club and loved it, so I'm really looking forward to getting my copy in the post and enjoying the finished version. Find out more about that here. And go buy it here.
________________________________________________________
3rd June 2010
Monthly Update
Ok, so I missed the May update, but for a very good reason: I was waiting on some BIG NEWS. And what is that big news? Well, it seems I've taken my first step into the big wide world of published novelists. My latest novel, The Soul Consortium, has been snapped up by Medallion Press. Go check them out. You won't find any mention of me there yet, though. That's because the planned launch date is not until July 2012. It's a while away, I know, but it gives us plenty of time to prepare the ground and make sure the book's perfect.
________________________________________________________
10 Apr 2010
Monthly Update
Plenty to write about on here, but as usual, I've been updating my site a lot less than I should.
I completed the 10k run and thanks to a lot of generous people, managed to raise almost £360 for St Clare Hospice!
I've also updated my writing page - The Soul Consortium is now done and I have a few friends reading through the final draft while it's going through the submission process. I've written two more short stories (one of which has been accepted for publication at This Mutant Life in the July issue), and the other written for a friend. And I also completed a trailer for Richard Thomas's new novel Transubstantiate which is due for publication in July.
________________________________________________________
12 Mar 2010
St Clare Hospice 10k Run
I'll be running for this on Sunday March 28th. Please give generously by visiting my just giving site below.
________________________________________________________
23 Jan 2010
Eternal Night: A Vampire Anthology
My short story "Amiko" found its way on amazon this week as part of the Eternal Night anthology. Go buy it, there are plenty of great stories within those pages!
"Blood, fangs, darkness and terror...these are the calling cards of the vampire mythos. Inside this tome are stories that embrace vampire history but seek to introduce a new literary spin on this longstanding fictional monster. Follow a dark journey through cigarette-smoking creatures hunted by rogue angels, vampires that feed off of thoughts instead of blood, immortals presenting the fantastic in a local rock band, to a legendary monster on the far reaches of town. Forget what you know about vampires; this anthology will destroy historical mythos and embrace incredible new twists on this celebrated, fictional character. Welcome to a world of the undead, welcome to the world of Eternal Night. With stories from Axel Taiari, Chris Deal, Tony Schaab, Kelly M. Hudson, Simon West-Bulford, Jessy Marie Roberts, Christopher Dwyer, Anthony Giangregorio, Richard Thomas, Spencer Wendleton, Edward J. Rathke, David H. Donaghe, Caleb Ross, Nik Korpon, Rob X Roman, and G.R. Mosca"
_________________________________________________
01 Jan 2010
Happy New Year !
I found out today that my story Crimson Lakes was chosen as the feature story for the New Year edition of Dark Fire. I hope you're not squeamish. If you are, don't read it!
_________________________________________________
19 Dec 2009
Breach your comfort zone
This is a guest post from Caleb J Ross, author of the chapbook Charactered Pieces: stories, as part of his ridiculously named Blog Orgy Tour. Visit his website for a full list of blog stops. Charactered Pieces: stories is currently available from OW Press (or Amazon.com). Visit him at http://www.calebjross.com.
I've known Simon (virtual, internet-known, not physically or Bible-sense known) for a couple years, as part of the writing critique group, Write Club. When I first began communicating with him about his project back in 2007, which at that time I had not read, I felt deflated by the tone and subject matter. A novel about a boy who communicates with fantastical animals was a far cry from the brutal, visceral, Angry Young Man (AYM) literature that I was then practically swimming in. That novel, The Beasts of Upton Puddle, turned out to be quite amazing. Honestly, I have that novel to credit with much of the respect I now have for young adult fantasy fiction. What Simon did was force me outside of my comfort zone.
My brother-in-law, high school teacher and writer himself, enforced this idea of existing outside a comfort zone by giving me two initially confusing Christmas gifts a few years ago: The Best of the Best: 20 Years of the Year's Best Science Fiction and The Best the of Best American Poetry 1988-1997. These books, two genres I read occasionally and have yet to develop a love for, were fantastic for breaking down what might have become a hindering support in coming years; I was reading (re: existing within) too much AYM stories of down-and-out narrators (Chuck Palahniuk, Craig Clevenger, for example). I needed to be shown that words can do more than make a character bleed. They can make a character fly (sci-fi). They can craft a self-reflective persona (poetry).
I've been writing seriously for about 10 years, so of course I was conscious of the flexibility of words. But I had yet to truly incorporate that flexibility into my own work. Why? Perhaps I was concentrating on small steps, mastering my preferred tone first. Perhaps I was already over-stimulated by the quality of AYM out that that I felt comfortable knowing that well would never dry. Or, I was lazy.
As a writer, it is important to not only know what is out there, but to experience what is out there. I know I am a better writer for having read Simon's fiction. And I hope he would say that he is a better writer for having read mine.

Now, buy Charactered Pieces! It's unlike anything you've read before (see how I did that)
________________________________________________________
01 Nov 2009
I'm pleased to see two more of my short stories published on-line this week. Both are quite new. You can read The Toad as my Witness over at Colored Chalk, and there's also The Bramble Man at the new magazine Rotten Leaves. Go check them out.
________________________________________________________
20 Oct 2009
Be sure to check out the sites of Caleb Ross and Richard Thomas. They've both got some great stuff going on at the moment - Caleb's chapbook Charactered Pieces is out in just under a month, and Richard has an updated blog site and a bunch of short stories just waiting for your reading pleasure. Check them out.
________________________________________________________
16 Oct 2009
My Sci-fi horror short story, The Box has been released over at The Absent Willow Review.
________________________________________________________
06 Sep 2009
Two bits of good news came my way today:
Firstly, my short story for children,'Footprints On The Water' has been published over at Spaceports and Spidersilk today. Go visit the site and check out the fiction section where you'll see a link to my story.
I've also been given permission by MOD to post one of my older short stories "Lethal Injection". Read it here. (Beware, it's a horror story and contains strong language).
________________________________________________________
26 Aug 2009
A revamp of my website was long overdue, but finally, it's here. Now that it's looking more presentable, and because I need to be more proactive about updates, I'll most likely spend a bit more time actually doing something here from now on rather than just staring at facebook. My old website is still around, but will gradually fade away into the electronic ether as I start dismantling it over time.
________________________________________________________